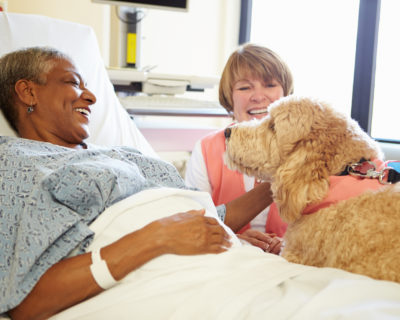 Shanna Stichler
Here at Vetality, we like to celebrate all the holidays that affect our pets or working animal partners. Last week, we took time to honor our amazing guide dog friends. Today though, we're going to give love to animals who, well, give love of their own to people all around the world. It's International Therapy Animal Day!
What are therapy animals?
We all love our pets, of course, and it's safe to say that they love us in return. All of us probably could tell endless stories about how our pets helped us through a tough time, kept us active, or just made us smile. The therapeutic value of pet ownership has been proven over and over again in all kinds of scientific studies. Working therapy animals play a bit of a different role though. They help people who are sick in hospitals or rehabilitation centers. They give comfort by visiting nursing homes or other elder care establishments. Sometimes, they even help children learn to read. Therapy animals of all species can give confidence and dignity to people with physical, developmental, or other types of disabilities when perhaps a service dog would not be a good option. According to Pet Partners,  the nation's leading registry for therapy animals, dogs make up about 94% of animals used for animal assisted activities. However, it's possible to also encounter cats, horses, rabbits, lamas, and even guinea pigs! Virtually any pet parent can participate in this very rewarding activity.
What qualities should a therapy animal have?
First and foremost, animals selected for therapy work should love attention, because they will be getting a lot of it. They should be calm and accepting of new things like shiny surfaces, medical equipment, and unusual noises. If appropriate, therapy animals should be able to respond to a few basic commands and know how to walk on a leash. They must also be healthy, free of any communicable diseases, and current on all vaccinations. Dogs and cats especially must be kept up to date on flea and tick preventative as well as Heartworm treatment.
How can I volunteer for therapy visits with my pet?
Many people who take their pets on therapy visits find the experience incredibly rewarding. The animals also seem to enjoy helping a wide variety of people. If animal assisted activities are something you and your pet would like to do as a team, check out the opportunities in your area. There are typically a few pet therapy groups in every city that hold classes for new teams a few times a year. It's important to take these classes, so that you and your pet can learn to interact safely with a wide variety of people and possibly other animals. Most facilities who incorporate animal assisted activities require that teams pass an evaluation before officially visiting patients. Even though there is a bit of work involved to register as a therapy team, it will make visits go much more smoothly once you do get started.
Therapy animals of all shapes and sizes are becoming an increasingly important asset for humans all over the world. Along with their handlers, they work hard to bring comfort and boost morale for anyone in need.
 We at Vetality salute them for all the amazing work they do, and we urge anyone interested to get involved with an animal assisted therapy group near you. If you already do this activity with your pet, we'd love to hear your stories! Please post them, or photos of your therapy animal in action, to us in the comments section!  Visit us at www.vetality.com